Applications for Sen. Sanders' spring 2024 internships are now closed. 
Interns are an integral part of our Senate operation and contribute greatly to the Senator's work on behalf of Vermont and the nation. Senate interns have the unique privilege of gaining an insider's perspective on the legislative and representative process. Our Washington and Burlington offices offer paid full- and part-time internships tailored for recent graduates and current students at the undergraduate or graduate level. Progressive politics and familiarity with the Senator's legislative priorities strongly preferred.
Internship experiences are generally consistent with the descriptions below but change from term to term in accordance with the Senate calendar, office legislative and casework priorities, and intern performance. All candidates must be able to reside locally to their duty station (D.C. or Burlington) for the duration of the internship. Applicants with disabilities who require reasonable accommodations to participate effectively in the application or hiring processes are encouraged to request an accommodation at any time during those processes.
Internships are divided into three terms:
Spring: January through mid-May
Summer: Late May through mid-August
Fall: Late August through December
Exact dates are flexible based on availability.
Questions? Please call the Senator's office at 202-224-5141 or 800-339-9834.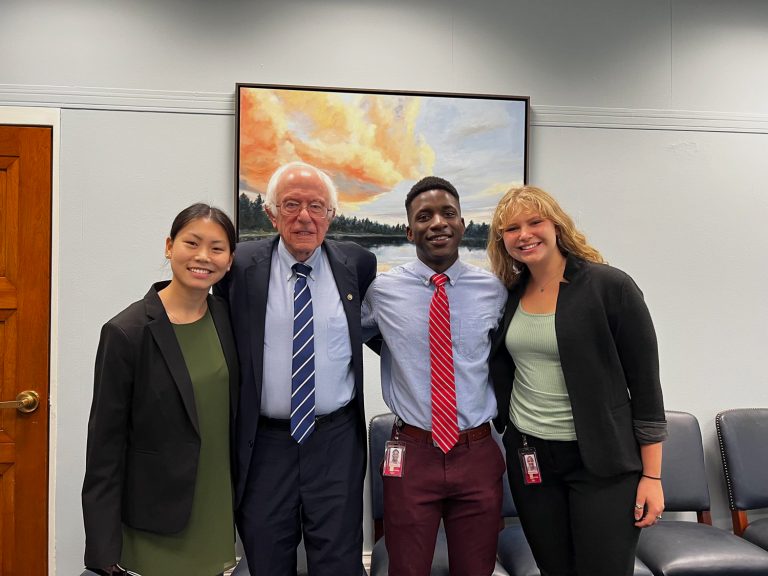 State Office Internship: Interns in the Vermont office experience the various ways in which Senator Sanders' staff assists Vermonters on a day-to-day basis, from representing the Senator at events to helping Vermonters resolve problems with federal agencies. Interns will help respond to constituent requests for information and assistance; join visits with Vermont organizations; help organize and staff public meetings and events, track local news stories, and much more.
Press/Video Internship: Press and video interns in the Vermont office assist with photography and videography, production of videos and graphics, and drafting of social media content. Interns should have a working knowledge of Adobe Premiere Pro and After Effects, as well as creative drive to explore new approaches to video storytelling.
Legislative Internship: Legislative internships are geared toward current or recent undergraduate students. Legislative interns in the Senator's Washington office answer phones and process voicemails, greet front desk visitors, sort mail and scans, attend hearings and briefings and take notes for staff, lead tours of the Capitol, provide additional research capacity to legislative staff, draft legislative mail, provide assistance to senior staff like Administrative Director and Chief of Staff, conduct rapid response, run errands in the Capitol complex, help with setup for events, and assist with staff projects as needed.
Press/Video Internship: Press and Video Interns in the Senator's Washington D.C. office will need to have a working knowledge of Adobe Premiere Pro and the Adobe Suite, as well as a drive to work hard, pay close attention to detail, and explore creative approaches to video storytelling. Interns may be expected to assist with video shoots, create graphics, source interviewees, research archival footage, photos, public records, edit videos and create motion design and animation. 
HELP Committee: Interns for the U.S. Senate Committee on Health, Education, Labor, and Pensions (HELP) play a key role in the committee office of Chair Sanders and will work closely with policy advisors and counsels. The HELP Committee works on a wide range of issues in the areas of health, education, labor, disability, pensions, and oversight. The internship position offers undergraduate, graduate, medical students, law students, and recent graduates the opportunity to gain substantive experience in a Senate office while participating directly in the legislative process. For more information and to apply, click here: https://www.help.senate.gov/chair/internships.